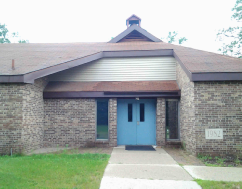 Who We Are
We are a member congregation of The Lutheran Church–Missouri Synod. We believe that the Bible is God's inspired and inerrant Word, given to us to show us God's Grace and Salvation in His Son Jesus Christ. Our worship style is liturgical, that is we follow set orders of worship, most of which is drawn from the Bible, especially the Psalms. We show God's Grace and Love in our involvement in the community. We are Lutheran so we agree with the Lutheran understanding of what the Bible teaches as stated in the Three Ecumenical (Universal) Creeds that we share with all churches and the other documents in the Book of Concord which lays out what we as Lutherans believe, teach and affirm.
In 1965 a pastor from the Detroit area contacted Pastor Richard Krugler of Trinity Lutheran in Reed City about several of his members who vacationed in the Baldwin area. This led to the establishment of a Summer Chapel program in July of 1968 served by area and vacationing Missouri Synod pastors and the seed of Grace Lutheran Church was planted. In 1975 there was enough interest that it was decided to try holding services year round. Grace Lutheran Church was formally chartered then on June 10th 1976 in rented facilities. Soon the former Christian Science Building on Oak Street was purchased.
In the early years, Grace was served by area Missouri Synod pastors and then by Vicars (pastoral interns getting field experience during their third year of seminary). In 1981 building began on the current church building 2 ¼ miles south of Baldwin on M-37. The church was dedicated on May 30, 1982.
1987 saw another milestone in the life of Grace. In May of that year the first full pastor was called, Pastor Donald V. Engebretson a new graduate from Concordia Theological Seminary, Ft. Wayne, Indiana. During the years since, Grace has been served by several pastors with the current resident pastor Pastor Daniel Fienen being installed on April 27, 2014.
In June of 2005 Grace Mobile Pantry was started with assistance from Thrivent Financial. Grace Mobile Pantry soon became a regular food distribution in partnership with other local churches and people. Food is distributed every month on the fourth Tuesday to over 100 families.